How to Care for Your Bed Linen
September 14th, 2020 by
Jemma

Proper care can increase the longevity of your sheets. To get the best out of your Loom & Last bed linen, follow this handy guide:
Wash before use.
Wash your bed linen at least once before first use. Wash your sheets on their own to prevent them getting damaged by zippers and other items. Avoid contact with household cleaning products and skin care products containing benzoyl peroxide and alpha hydroxy acids as these can discolour white fabrics. These can be found in certain spot treatments, cleansers, exfoliators and serums.
Do not bleach.
Household or chlorinated bleach is too harsh to use, particularly on Egyptian cotton. If you need to whiten your bed linen, using a cup of plain, distilled vinegar in the drawer of your washing machine along with your normal products will brighten your linen and kill odours.
Dry thoroughly.
For best results dry your sheets the natural way – on the line! As well as saving you money and protecting the environment, hanging your sheets on the washing line keeps them fresh, preserves the fibres and reduces creasing. The sun has anti-bacterial properties and actually disinfects your sheets as well as keeping your whites nice and bright. Be assured that if it's raining or you don't have the time to line-dry, all our bedding is suitable for tumble drying on a low heat.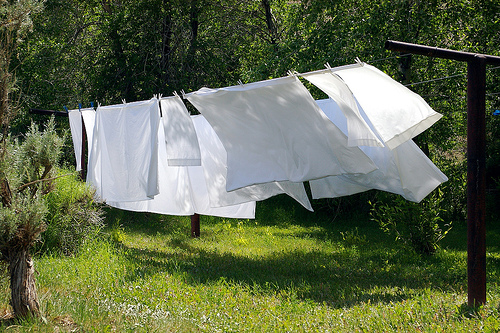 Iron on a high setting.
If you like your cotton bed linen perfectly smooth, you will need to iron it. Cotton creases but the more it is washed the softer it will be and the easier to iron. Our 100% linen bed linen is specially designed for a tumbled, relaxed look so it will need an iron if you'd prefer it to look smooth on your bed!
Storage.
Keep your sheets in a dry, airy space when they're not in use, away from direct sunlight. Never store your bed linen in a plastic box as this may result in mildew or cause yellowing. You should have a couple of sets of sheets per bed and change them every 7 – 10 days. Take a look at our storage suggestions blog for some tips!
Replacement.
Replace your bed linen if it becomes damaged, stained or shows signs of age e.g. frayed edges. Your pillow cases are likely to need replacing much sooner than your duvet cover and sheet because the natural oil from our face and hair as well as products such as moisturiser will transfer onto the fabric and can cause damage over time. Replacing your pillow cases is a quick and inexpensive way to update your bedding.
You may also like