Cosy up your home for Autumn
October 12th, 2020 by
Jemma

You're packing away the electric fans, wondering where you put your thickest cardi and arguing with the other half about whether or not you should put the heating on. That's right. Autumn is here. Before you know it, you'll be choosing Halloween pumpkins and booking tickets for the village bonfire night.
It would be fair to say that we've all spent a lot more time at home than we might like this year and that doesn't look set to change anytime soon. With that in mind, we at Loom & Last have put together a definitive guide to cosying up your home for the coming season.
WARM UP YOUR WINDOWS
Consider investing in some thermal lined curtains or Roman blinds for your windows. They warm up your home and reduce your energy bills. A 2008 study at the Glasgow Caledonian University showed that a pair of thermal curtains reduces heat loss through a single pane window by a significant 14% and the combination of double glazing and curtains up to a whopping 66%. These are big numbers and they translate into proper savings on your energy bill, a cosy room and a greener home.
Loom & Last offer 3 thermal lining options:
Thermal lining with interlining is the absolute optimum choice for warmth, longevity and drape. The traditional way to make curtains is with lining and a third, thick, inner layer of brushed fabric called interlining. It can be heavy and bulky though, so if space or size is an issue then look at one of the following options instead.
Extra thick thermal lining is a combination lining designed to simulate lining and interlining, without the extra bulk (and cost) of three layers. It's what we always recommend if a customer wants warmth and beautiful, full curtains or blinds.
If space is an issue, for example there is little or no wall either side of your window, but you would still like some extra warmth from your curtains, then we recommend going for a standard weight thermal lining.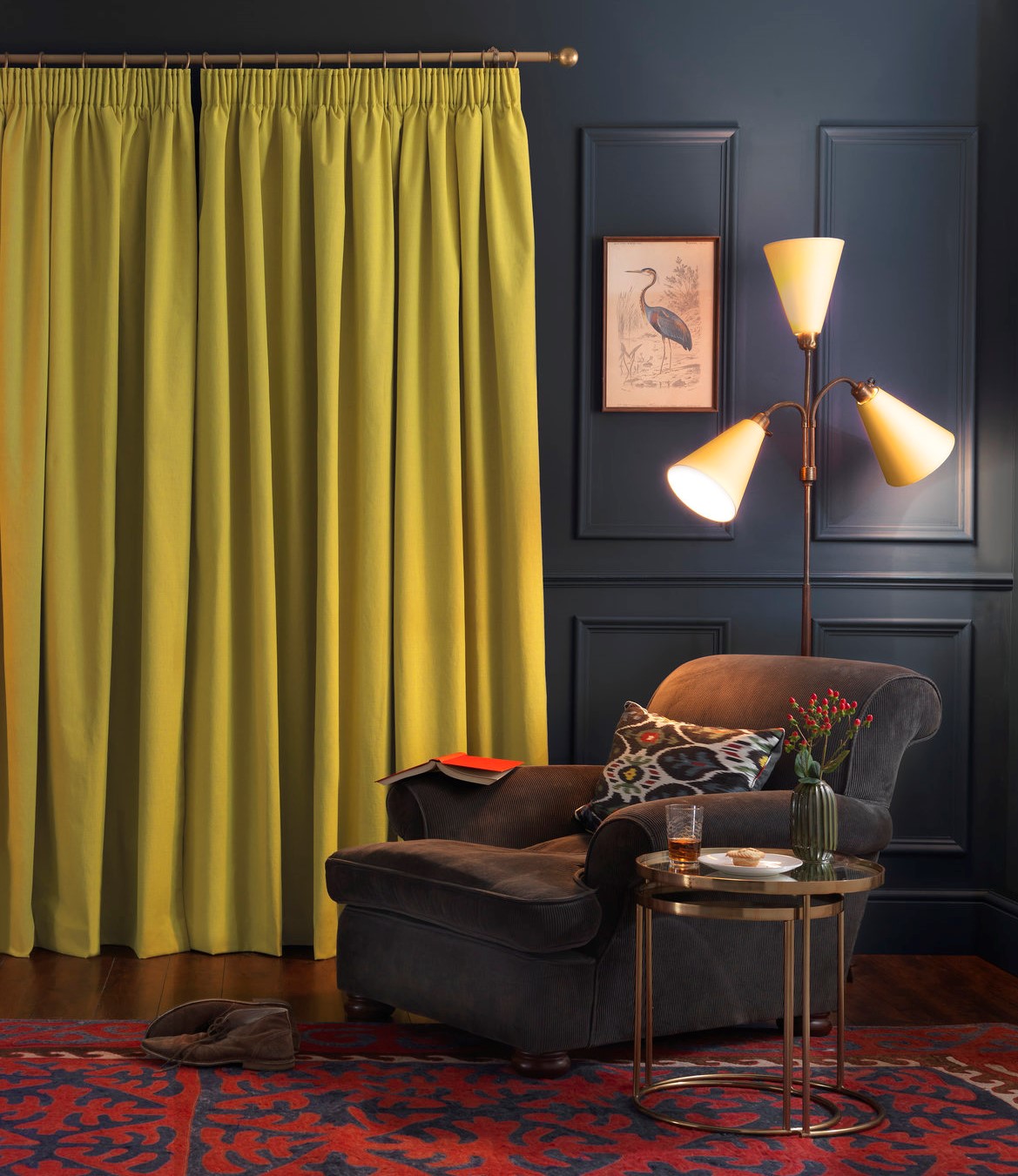 Made to measure curtains in Starfruit
CHANGE YOUR BED LINEN
How about treating yourself to a new set of 100% linen bedding? While traditional cotton percale is crisp, cool and smooth against your skin, linen bedding is warmer and cosier. It's less formal too, so if luxurious lie-ins are your thing at this time of year, 100% linen sheets could be right up your street. The more you use linen, the softer it gets, resulting in a crumpled and beautifully relaxed look. Buy a 100% French linen Loom & Last bed bundle to save 10% on individual pieces. Our linen is from made from flax plants from Normandy, considered to be some of the best quality in the world. Pile your bed high with throws and cushions for a look with layers of texture and colour.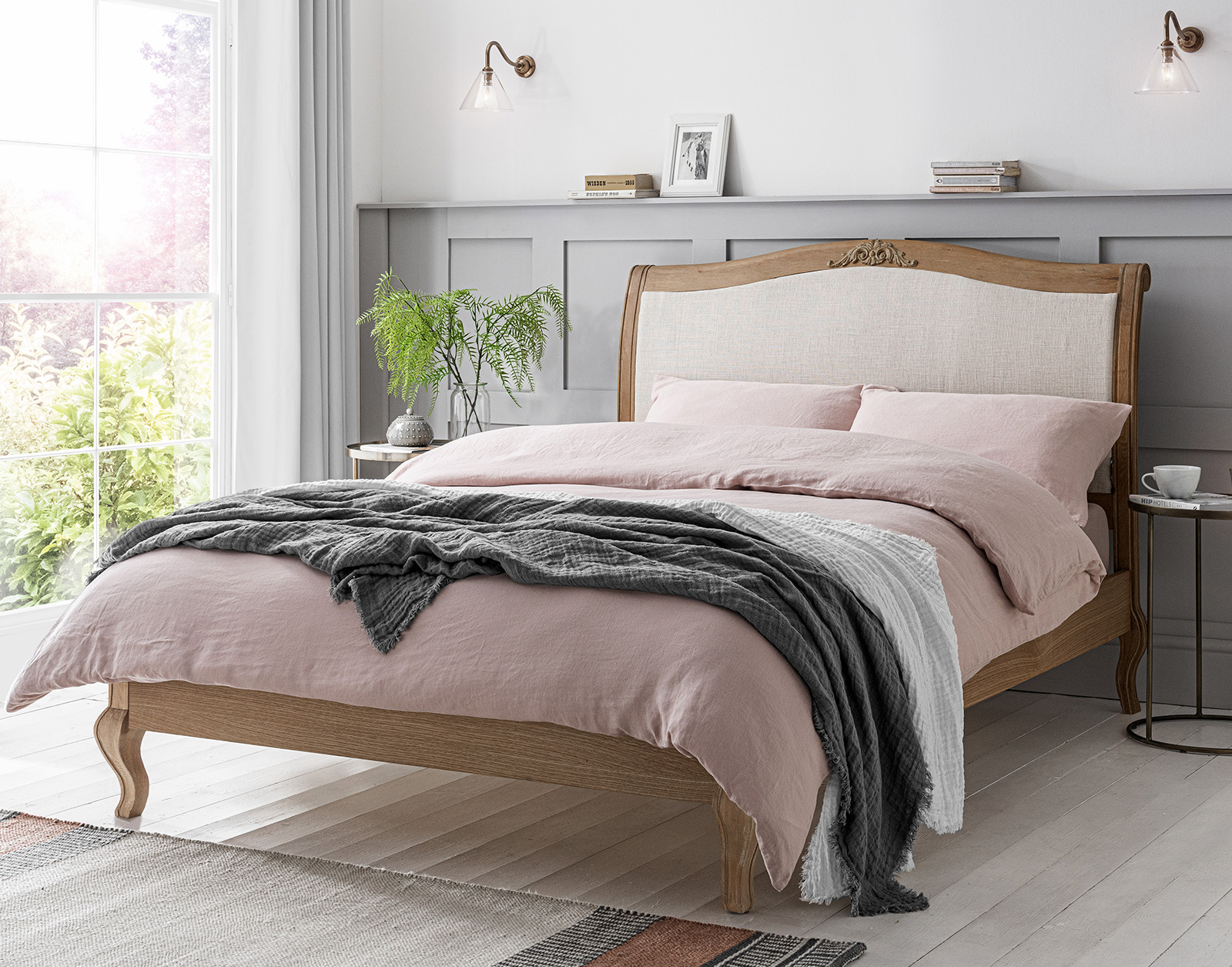 Scandi Pink French Linen bundle
LOOK AT YOUR LIGHTING
The right lighting can make a real difference to the ambience of your home in the colder months, especially in the evenings. Bright white lights can be quite stark and cool so it would be wise to use warm lightbulbs in your floor and table lamps. Warm bulbs have more of an orange hue so they are softer on our eyes which helps us to relax and unwind. Be sure to use light-softening shades on your lamps and pendants too, to make your light source even more forgiving! Candles can also make for a cosy and inviting atmosphere in these chilly months, just don't forget to blow them out before bed time. While we're all shopping from home, here are a few of our favourite lamps and lights from around the net:
you floor lamp by houseof
white soft fabric wall light by houseof
larger spangle domed pendant by Pooky
smaller artur table lamp in citrus by Pooky
You may also like