4 Handy Things To Consider When Choosing Curtains
September 22nd, 2017 by
Jemma

1. Heading choices:
When it comes to headings, knowing the difference between a double pleat and a tab top is the key to achieving the look you want for your curtains. Some headings look a little more formal than others and some can be adjusted slightly should you wish to move the curtains to a different window after some time.
Below, from left:
Pencil pleat curtains are informal and adjustable. You can alter the width of the curtains by pulling or loosening the strings in the heading tapes (so make sure you don't cut these when you first put the curtains up). SOURCE
Eyelet curtains are simple, informal and contemporary. They aren't too bulky and will take up less space at the sides of your window when they are open than some of the pleated styles. SOURCE 
Double pleat curtains are sometimes called pinch pleat or double pinch pleat. They are more formal and the heading is "fixed" so they will only fit the width of the window they are made for.
Tab top curtains are very informal, require no heading tape or hooks and use the least amount of fabric out of all headings. (Available from the Loom and Last on request only.)
Single pleat curtains are formal but modern and use less fabric than the double pleat or pencil pleat if space is limited. (Available from the Loom and Last on request only.)

2. Desired drop:
Choosing the right drop (or length), is integral to achieving your desired effect. As a general rule of thumb, we at the Loom and Last recommend having short curtains finish at the window sill or radiator. We recommend that long curtains hang to the floor or a couple of cm's above. For more of a luxurious look, consider having your curtains "pool" on the floor. This can create warmth and cosiness but is perhaps not suitable for curtains that are to be opened and closed regularly as they will get dirty at the bottom.
It is worth noting that curtains that finish between the sill and the floor can make your window look small and the overall look a bit "unfinished". Measure carefully and ideally with your pole or track already in place.
Curtains to the sill, radiator or work-top:

Curtains to the floor:

Curtains pooling on the floor:

3. Hanging your curtains:
As mentioned, it's a good idea to fit your pole or track before measuring up for curtains. This ensures more accurate measuring of the width and drop and leaves less room for error through guess work. But where to fit it? If possible, avoid fitting your pole directly above the window. Going higher (as high as the ceiling if you wish) will draw the eye upwards and elongate the space making your window appear taller.
By the same token, if you have enough space either side of your window, consider fitting the pole wider than the frame. There's no hard and fast rule, but 15-20cm or more on either side of the window will be plenty of room for the curtain to stack back without covering any of the window and blocking the light out during the day. Dressing your pole and curtains like this also creates more of a feature of them whilst at the same time making your space appear brighter and more roomy.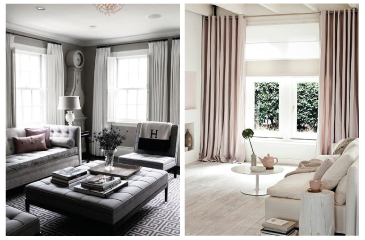 4. The difference between drapes and curtains:
Here at The Loom and Last, we only refer to curtains, but if you're looking at other websites for inspiration or seeking advice prior to purchase you may often see references to "drapes". Drapes are simply larger curtains, both in size and weight. They can be floor to ceiling and often contain more fabric and heavier lining to promote warmth and fullness. They might also have a traditional or formal heading such as a structured pleat. These pleat options as well as thicker, thermal linings are all available at The Loom and Last so if you've got drapes in mind, ask us how we would recreate your ideal look.
You may also like