Accessory of the Week: Concrete Floors
May 22nd, 2013 by
Harry

It's inexpensive, it's contemporary and it's durable. Concrete can be applied to your floor in a few simple steps: 1.) Remove your current flooring. 2.) Mix and pour the concrete. 3.) go over with a metal trowel to even it out. Alternatively you could hire someone to do it for you. However you do it, it really does look great. Here are a few examples:
g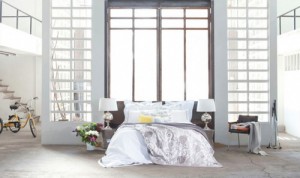 Thrifty…
If you have a large amount of floor space to cover and your budget is a distant memory, concrete is the perfect option. It works well with open plan and can still be bright and airy even with concrete flooring. If you have the means under-floor heating can keep your tootsies warm in the winter months.
g
Versatile…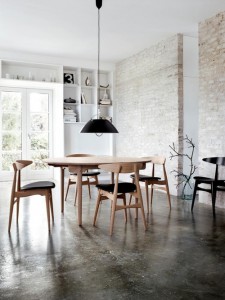 Concrete flooring can go well with any room in the house. If you have children running riot in the kitchen, concrete flooring is ideal. When polished it doesn't stain and it hardly scratches. Your kid could run wild with a sledgehammer and the flooring will still be intact (please don't do that though).
Not only that but grey is always in fashion, and will go well with any interior. This image shows a minimalistic kitchen, but if you pair a concrete floor with a long farmers table and a bunch of fresh flowers it will be the perfect combination of traditional and modern.
Concrete flooring can cost from £40 to £400 per square metre depending on if you want colour added or shine. A matte look with some polish will give a more relaxed feel and will cost less.
g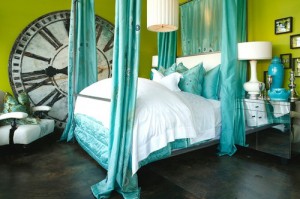 Eclectic…
Having concrete floors doesn't mean your room has to be modern and simplistic. These bright blue bed accessories and the lime green walls complement the dark concrete floors wonderfully, and the mega-clock adds a fun statement.
Harvey Maria are flooring experts who offer a variety of concrete flooring. I love the light grey 'Ando' flooring, as it's light enough to go well with any interior and the grey shade can be warming. From left to right: Tadao Concrete, Ando Concrete, Blue Concrete.
g
You may also like