Accessory of the week: Table cloths
May 1st, 2013 by
Harry

With this year's trends of shabby chic and minimalism, table cloths have been put on the style back-burner.
Now that spring is finally here, a new breed of bright, fresh table cloths are ready to make a comeback. No laminated gingham here, just natural cottons and linens to suit the season's trends. Covering your table is a great way to brighten up a room and protect your shabby chic table from getting any shabbier.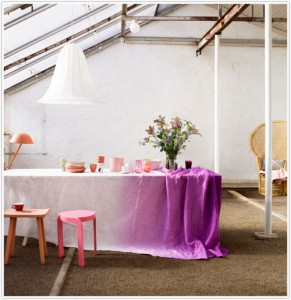 This is such a simple idea and will make your room look bright and fresh. You can easily re-create this ombre table cloth by dip dying a white linen sheet. You could use any colour from royal blue to ultra-stylish grey/black.
g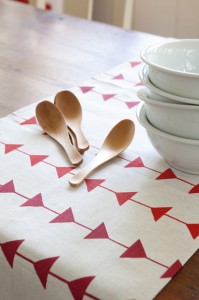 Geometric table linen…
A table cloth doesn't need to swallow up your entire table. You can find strips of table linen that will be perfect for resting hot plates on and will be a wonderful decorative addition to your table.
This beautiful linen table cloth is bright and smart as well as bang on the geometric trend. This table cloth is available from WendyPolish.com, an LA based designer and artist. She has plenty of other fun geometric patterns to choose from. You can find more of her work here.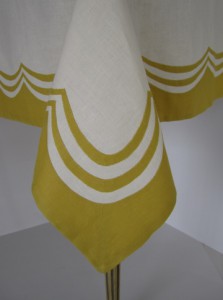 A bit of '70s…
A linen table cloth will bring a smart, crisp feel to a room and is easily washable.
This beautiful custom made table cloth is from Taigan.com. The avocado colour is the perfect way to celebrate the '70s trend and will also add a splash of colour to your room.
This look is perfect for a barbecue on a hot summer's day and is ketchup, grease and child-proof! Source
You may also like