Blue and White for Summer
June 5th, 2013 by Debbie

g
The Loom and Last are based in London's Chelsea Wharf, a small complex facing the Thames that consists of tall buildings on two sides, which creates a strong wind tunnel between the buildings.
The recent sunshine has been deceptive, as I wander downstairs for a spot of sun and step outside to realise I look like a Borrower that's got stuck in a (cold) hair-dryer.
However, for everyone else who doesn't work in my tiny section of Chelsea, summer is here! To me, nothing shouts summer more than blue and white, so this post is dedicated to the colour combo that always makes me feel a little happy inside…
g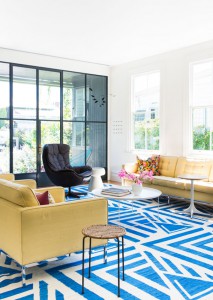 This image shows The Melbourne Home of Anna Charlesworth and Peter Stephens. Photo by Brooke Holm, styling by Lucy Feagins. Source
This carpet is probably the nicest carpet I have ever seen. The geometrics are bang on trend and the blue and white pattern brightens up the entire room. This puts the 'mm' in summer. Am I right?
Check out Bright Bazaar blog for more colour inspiration. It's my all-time favourite blog and inspires/upsets me every day.
g
g
g
g
g
g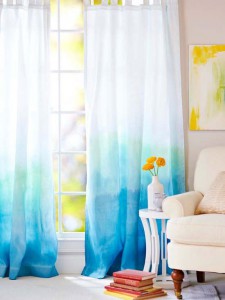 Maybe one day I'll get over my dip-dye obsession, but for the time being I have fallen in love with these tab top curtains. This is the ideal heading for these curtains, as it gives a relaxed look. The fabric is so light it gives the impression of a makeshift pair of curtains. I could see these in a loft in Brooklyn!
You can re-create this look by purchasing some of our ready made curtains in Chalk, adding some Dylon Bahama Blue dye and dying them in your bath. Cheap, easy and so summery.
NB: I recently had a dip-dye day with my boyfriend, who got over-excited and plunged his hands straight in the dye. They're still stained Burlesque Red, so make sure you wear gloves.
g
This interior is more green and white than blue and white, but I couldn't resist. This would be the ideal seaside guest bedroom, and the painted white floors with the lime green stripes make it look bright, fresh and clean.
This may seem unrelated, but there is a quote in The Great Gatsby that this image makes me think of: "It amazed him–he had never been in such a beautiful house before […] There was a ripe mystery about it, a hint of bedrooms up-stairs more beautiful and cool than other bedrooms…"
I'd like to point out that I haven't yet seen Baz Luhrmann's version of The Great Gatsby and I seriously doubt the Buchanans' bedroom look anything like this. Source.
g
Fancy yourself some blue and white fabrics? Look no further than, well, here! The Loom and Last have loads, and they're pretty nice. Here's a selection: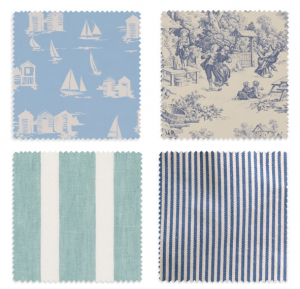 g
 g
g
g
g
Clockwise from top, Harbour (£25.50 per metre), May (£18 per metre), Blue Smartie (£27 per metre), and Somerset (£38.50 per metre).
g
You may also like