Decorating With Black – Super sexy ways to lux up your living space
November 25th, 2009 by admin

Since the beginning of time, mankind has endeavoured to add a sense of individuality to their living environment. Today, we have many spaces we call our own where we can express our personal taste. The interiors and exteriors of our homes are a great potential canvas for our personal creativity. Occasionally, however, we're out of ideas. Mentally blocked. Completely stumped. While using the colour 'black' to perk up a room may seem like a daunting prospect, it's actually far better decorating option than perhaps it seems.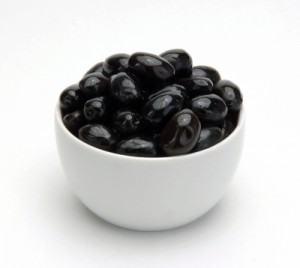 Black is best used to add drama and contrast to a room, and is frequently the colour of mystery, sleekness, and elegance. While many shy away from using large amounts of the colour on walls and panels, it can be a great way to add a luxurious, modern touch to a room, providing it is well illuminated and in a large, open space; it is not advised for small, dark places as it will enhance that hemmed-in feeling.
Black also makes a great accent colour. Accent colours can be picked up in throw pillows, curtains, rugs, and other decorative accessories. Black shutters, accent trim, and front doors can also makes an excellent accent to your exterior paint colour, diffusing borders and highlighting show-off areas.
Black is frequently used in conjunction with white to make the ultimate monochrome contrast. The vibrant pop of primary colours used in contemporary styles aids a room by creating the impression of depth when used alongside black, just like the vivid hues of a sunset against a black landscape. Rugged black iron work can add a whimsical touch to an eclectic interior. Black also works great against any paint colour from soft pastels to jewel tones.
Each room of the house can benefit from a black decorative piece. Black curtains in a bedroom can add a sexy richness to the room. Black curtains also have the added benefit of letting less light in for the late sleepers. Really, black curtains can be used to great effect in any room. The bathroom can be updated with black towels and toiletries. Black appliances give a kitchen a clean, modern look. Lamps with black bases or black shades make excellent accent pieces in any room of the house. A black blown-glass bowl set on a side table can be a great conversation piece.
Searching for the perfect black focal piece can be an adventure in itself.  The Internet provides a great variety of choices, and you can also shop for the best price. Other great places to look are interior decoration stores, home improvement stores and department stores. If you are looking for a deal, try flea markets and garage sales. Hunting for a find at these venues can be like treasure hunting; a productive and exciting way to spend a Saturday morning.
Try decorating with black. Don't be scared of it. Adding small black accents to update your style, or think 'big and bold' to really create a statement. After all, it does go with everything.
You may also like