The Loom and Last's Interior Design Tips
June 24th, 2016 by
Jemma

The Loom and Last, experts in creating stylish interiors, has picked the brains of their in-house stylists to bring you eight home styling secrets to make your home an interior designer's dream.
Combine all of these simple tricks for a truly stylish home, or cherry pick the tips you like best to give your home a mini-makeover this summer. Refreshing your home with The Loom and Last's home styling secrets to rival those homes found in the pages of Living Etc and Elle Decor couldn't be easier…
1. REFLECTION PERFECTION – HOW TO USE MIRRORS TO INCREASE NATURAL LIGHT
Contrary to what you might think, hanging a mirror directly opposite a window won't actually draw light into a room – rather it will bounce any reflected light straight back out of the window. Instead, hang mirrors perpendicular to a window to reflect light into a room. Leaning a large and tall mirror against a wall, rather than hanging it onto the wall, also gives the illusion of height, making ceilings seem higher and rooms bigger: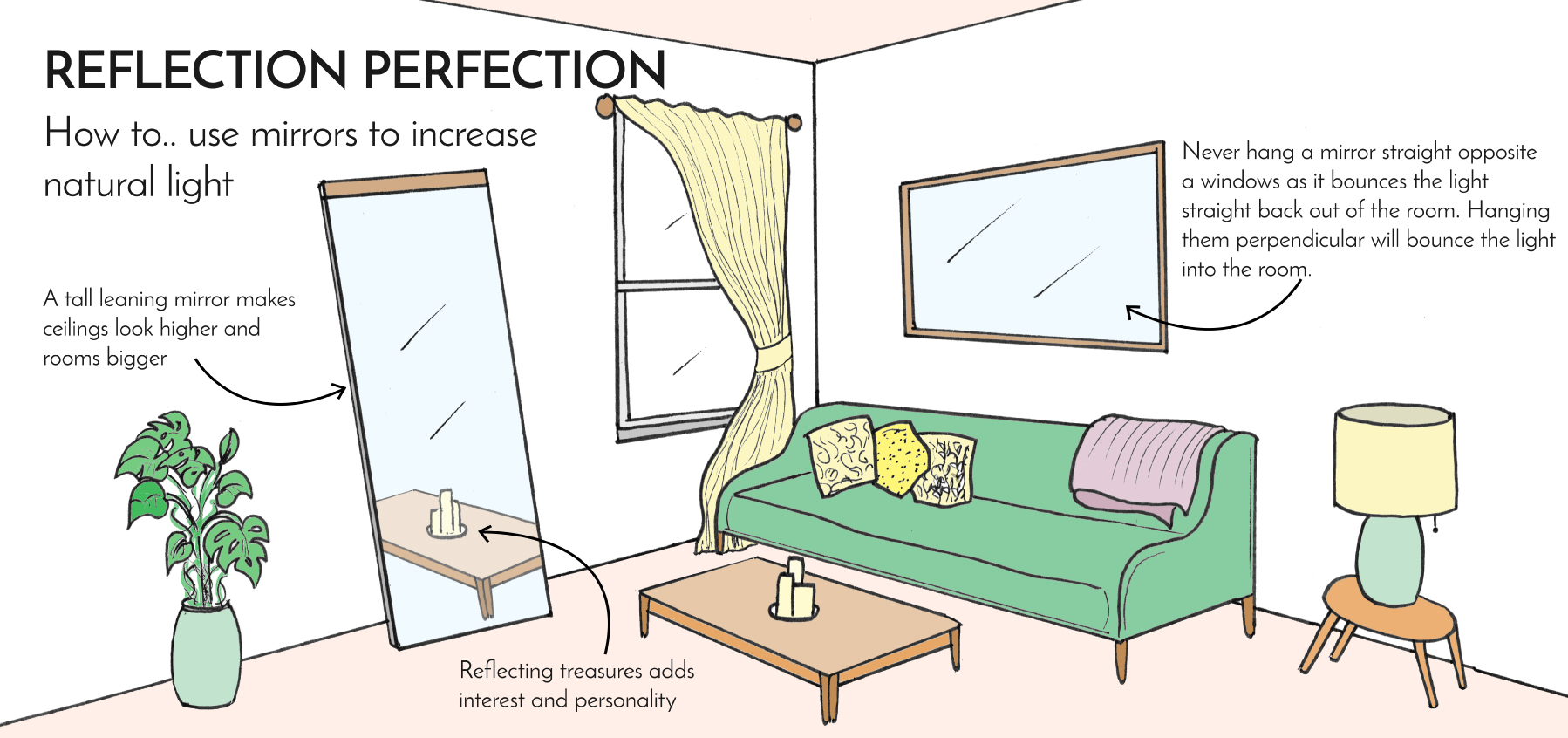 2. ALWAYS GO HIGH AND WIDE – HOW TO USE CURTAINS TO MAKE A WINDOW SEEM BIGGER
Even if your intentions are to make a room feel bigger by exposing as much wall as possible, fitting curtains close to a window will always make a room feel smaller and the window look crowded. The magic mathematical formula to make a window, and therefore room, feel bigger is to fit your curtain poll 10-20 cm wider than your window and position it 10-15 cm above your window: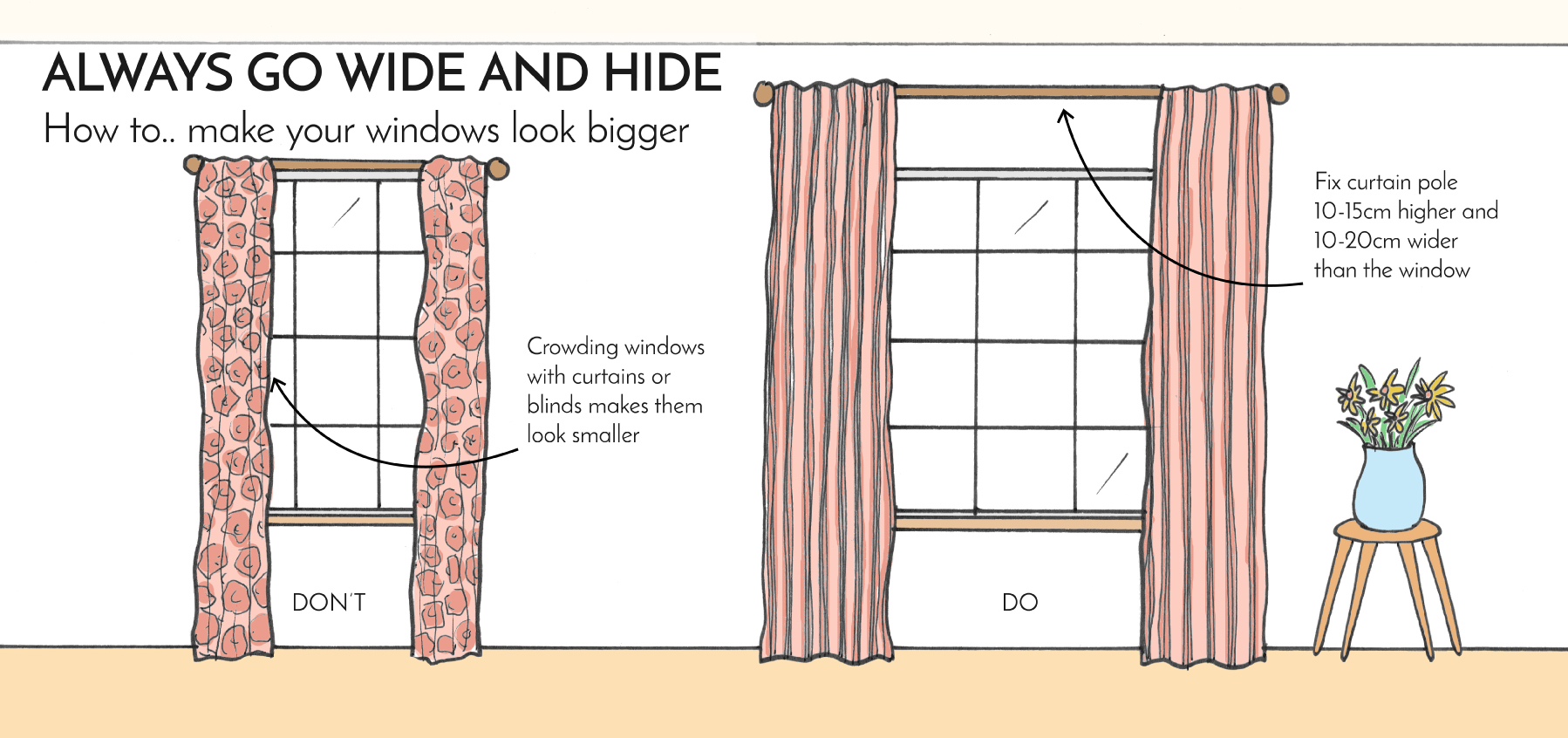 3. GORGEOUS GEOMETRY – HOW TO CREATE A FEATURE MANTELPIECE
The secret rule when trying to create the perfectly styled mantelpiece is to imagine a large triangle over your fireplace, with the base of the triangle across the top of the mantelpiece. "Anchor" the top point of the triangle with a large mirror or print and create focal points of interest with vases, candlesticks or favourite treasures at the bottom two points. Layering those objects at each 'corner point' creates depth and interest and grouping them from shortest to tallest from the outer edge of the mantelpiece inwards draws the eye upwards: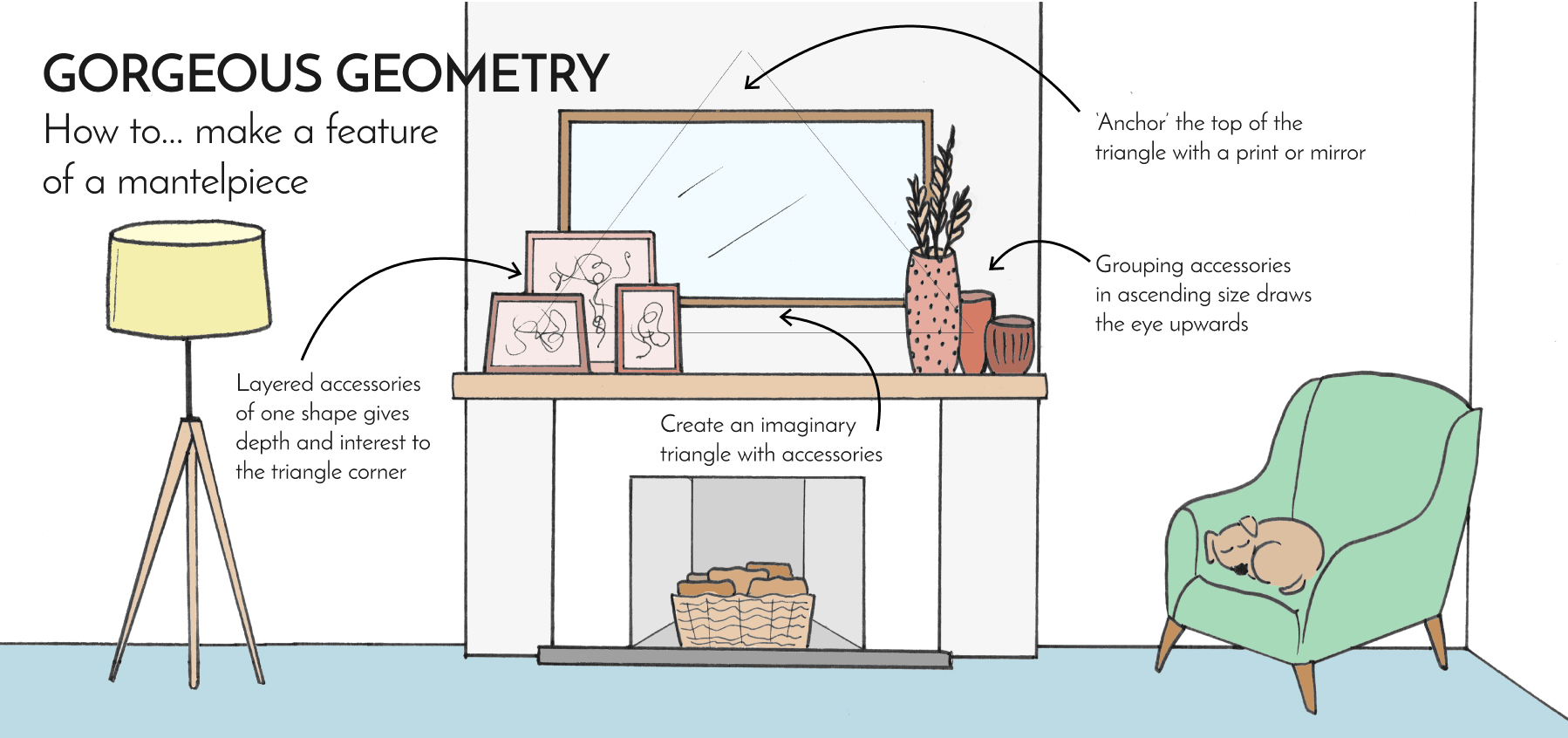 4. STYLISH SYMMETRY – HOW TO ADD DESIGNER STYLE TO A ROOM WITH SYMMETRY
To create a look straight out of Living Etc, experiment with creating symmetry throughout your interiors. Start by hanging a print or mirror two-thirds the size of the furniture it's hanging over (either bed, sofa or table). Create proportion to the central piece of furniture and print / mirror by placing smaller, similarly sized objects either side of the central focus. These can either be side tables, plants or lamps, but ideally they would be the same type of object and of similar size. When positioning these smaller objects, experiment by layering them against each other; for example, table lamps in front of wall hung prints or photographs. Used sparingly – layering objects like this adds to the overall impact of your scheme and makes a room feel bigger: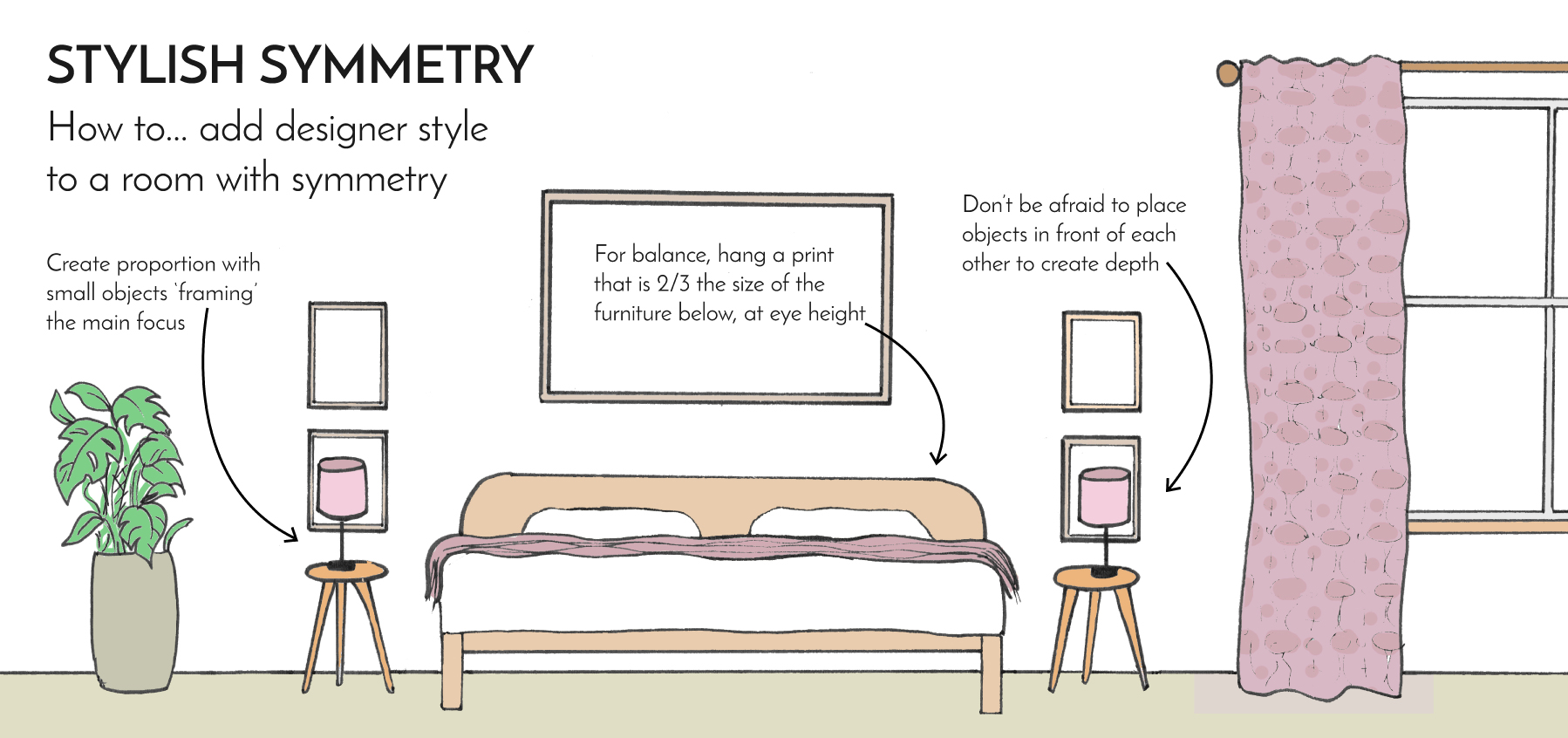 5. BE CLEVER WITH COLOUR – HOW TO USE COLOUR LIKE AN INTERIOR DESIGNER
For a calm colour scheme, use a palette of colours next to each other on the colour wheel – for example, blues and greens together. Sticking to one colour in different tones is the easiest way of achieving a seamless scheme – think of tonal greys and neutrals. For a bolder statement, use contrasting opposites from the colour wheel against a neutral background – pops of colour on a simple taupe sofa with violet and yellow cushions, for example: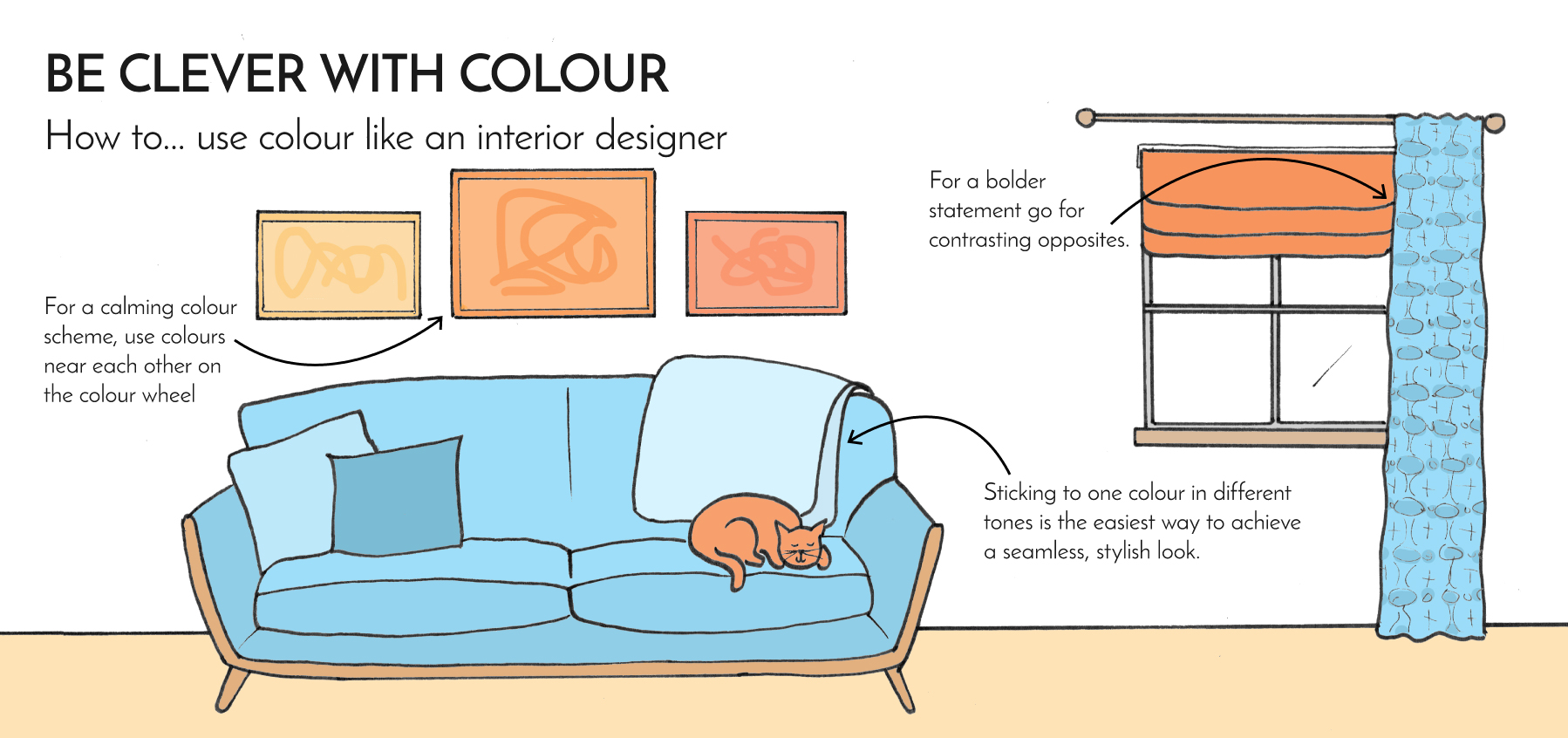 6. LIGHTING THE WAY – HOW TO MAKE LIGHTING AN INTEGRAL PART OF YOUR INTERIORS SCHEME
For living rooms, dimmer switches are essential to soften harsh central lighting. Investing in a 'statement' shade or angle-poise also means that any central light becomes a feature when it's not in use. Don't feel obliged to have to light a whole room when the sun goes down. Localised lighting can highlight often overlooked treasures, or make a feature out of a piece of furniture. Layering lighting creates an inviting atmosphere, so experiment with lighting at different levels around the room to create a cosy space: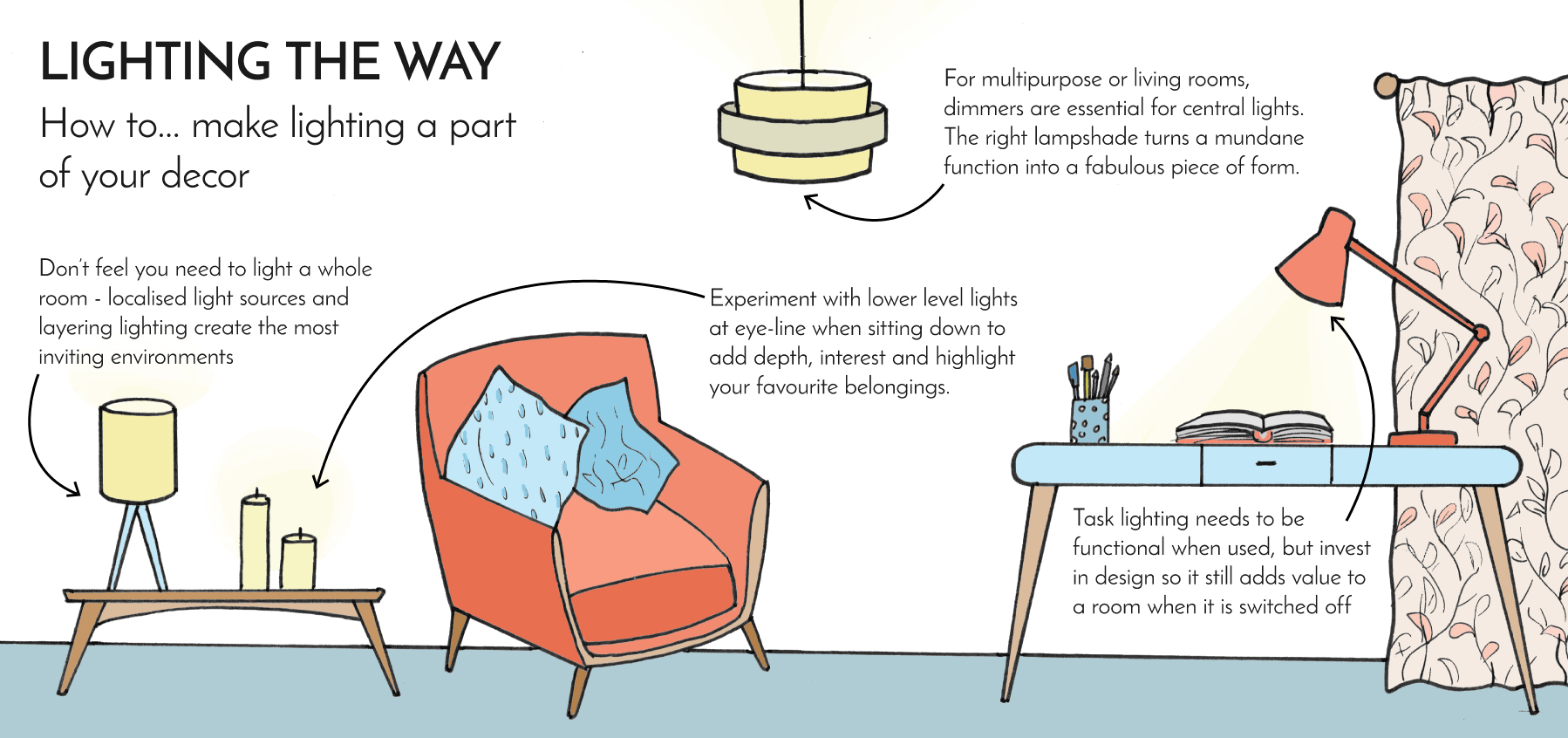 7. BIGGER IS ALWAYS BETTER – HOW A RUG CAN MAKE A ROOM LOOK BIGGER
Don't be tempted to put a small rug in a small room – you may feel it adds interest to the centre of the floor, but it actually draws the eye inwards, making the room feel smaller. Invest in the biggest rug you can, ensuring your furniture overlaps. This 'spreads' the eye, making the room feel bigger, but without losing the cosy feel of having your toes on the rug: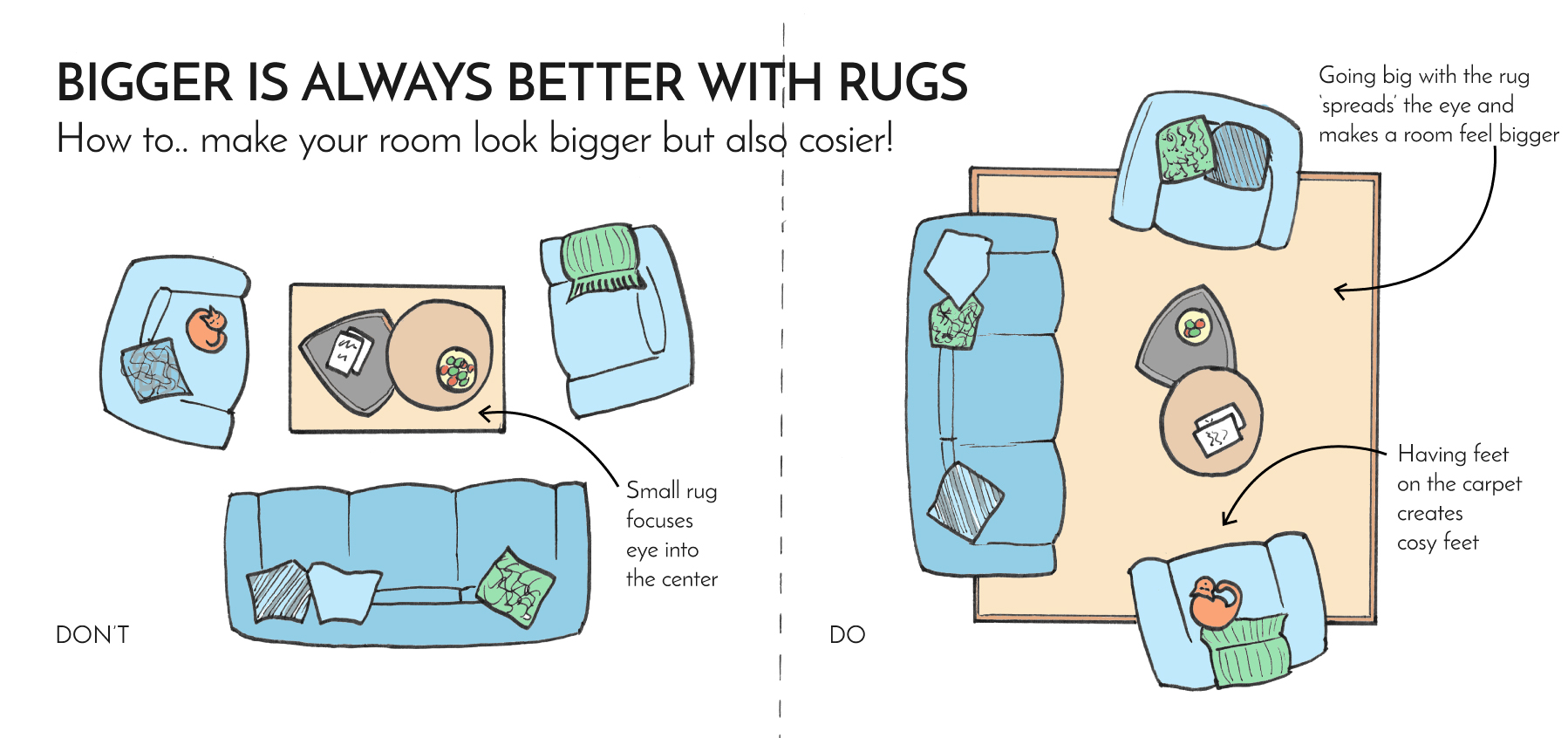 8. PLAY WITH PATTERN – HOW TO USE PATTERN WELL IN A ROOM
Create a feature with one big bold pattern, for example, on curtains or a rug. Smaller complementary patterns on accessories like cushions or throws add depth, interest and personality. Coordinate accessories by choosing one accent colour across them all: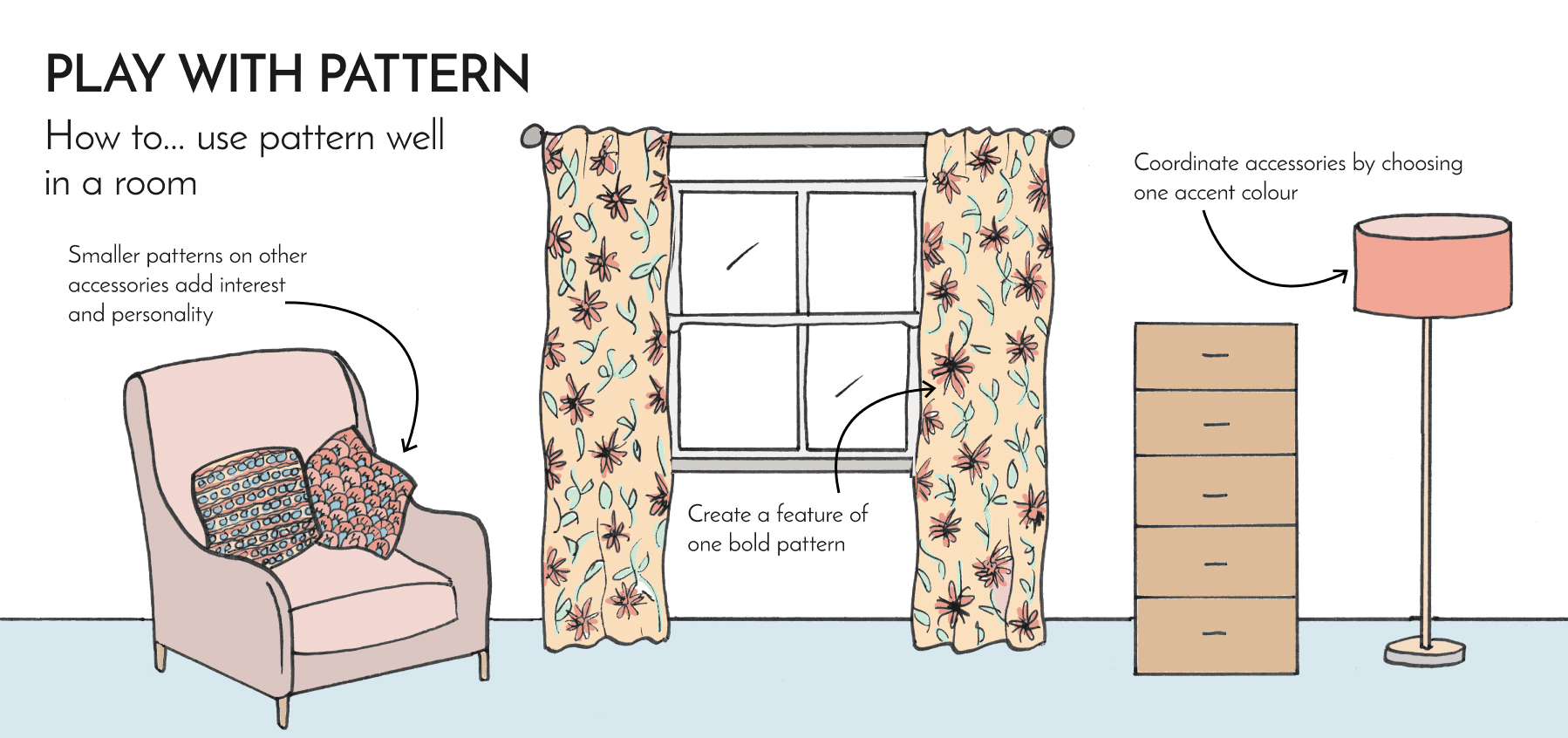 Curtains, Fun Stuff, Interiors and Ideas, Tips and Hints, Useful Resources.
You may also like