Winter Comes
January 18th, 2016 by
Jemma

I don't know about you but I'm delighted that winter is rumoured to be on its way this week, finally! Enough with the rain, clouds and unseasonable temperatures. Early January should be about crisp days, low sunshine and maybe even a flurry of the white stuff. Here's hoping.
If, like me, you shun the idea of battling through the first month of the year with a fridge full of kale smoothies, armfuls of fitness DVDs and a stack of ill-fated resolutions, then you'll probably want to get cosy. If you prefer to ease yourself into 2016 with a stylish period drama, some beautiful books gifted to you over Christmas and the last of whatever sweet, flavoursome hot chocolate you've been hording in the cupboard, then we're on the same page. Here are some simple ideas to help to you feel nice and snug at home.
I'm getting married soon so lights are high on my hit list right now! I love the idea of using lots of fairy lights in the home, particularly in combination with swathes of soft, sheer linen fabric like these.
Layer up your pillows, cushions, throws and bedspreads: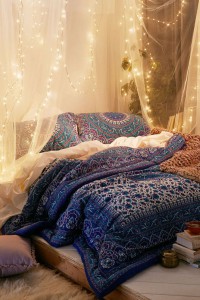 Pin back your dramatic drapes with fun tassels like these!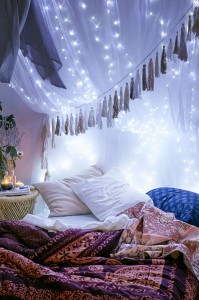 Lights can help to create warmth in the most unusual places – transform an unused fireplace into a cosy reading nook like this one:
…and just look at this! A winter's dream, surely?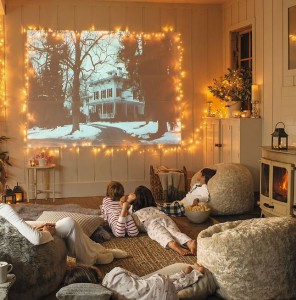 You may also like